Top 10 Stunning Captain America Cosplayers Who Are Worthy To Carry The Shield, Ranked
Jul 29, 2022 by YiLiao
Marvel superheroes have grown in popularity over time and have accompanied many fans through their childhood, youth, and even their whole life. Whether you're a fan of tried and true superheroes like Captain America or are giddy for Moon Knight, Marvel's newest superhero, to debut, you'll find your favorite superheroes from Marvel.
For most Marvel die-hard fans, wearing the same clothes as their favorite superheroes is a very meaningful and proud thing, so many people like to wear Marvel costumes on Halloween. Last week, we rated all the Marvel superheroes' costumes and put together this list of Best 10 Costumes In The Marvel Cinematic Universe. Of course, this ranking is only selected based on subjective conditions, and you can retain your own views. After all, there are so many superheroes in Marvel, and everyone's favorite type is not always the same. However, in so many superheroes, Captain America is undoubtedly the most iconic star in Marvel.
Every year, there are many people from all over the world wearing Captain America Costume to Comic-Con. Some of them will focus on restoring the comic book image of Captain America, while others are making their own costume similar to those in the Marvel movie. Their costumes can run the range from extremely investigated leisures of costumes from the movies to complex constructions based upon the classic comics. Some cosplayers even reveal creativity that equals their skill in crafting an outfit, basing cosplays around a mash-up of 2 personalities or offering alternate "What happens if?" tackles a classic idea. After collecting the recommendations of the general public, we have selected top 10 stunning Captain America cosplayers who are worthy to carry the shield.
1. ScubaRogers
Source from https://cosplay.com/photo/1yy7e2k1
This Captain America POW Escape outfit designed by ScubaRogers from Los Angeles, California is undoubtedly a success. He utilized an inexpensive alternate underarmor for the shirt, a leather heating system jacket, a WW2 American headgear, khaki Freight Pants, and also his forestry firefighting boots. What's more, he utilized a sheet of bent wood to make the shield (cardboard stand in at lengthy beach comicon as revealed), screws hold backpack band arm bands to the back. When ScubaRogers was in Comic-Con, many people came up to take pictures with him. In addition to being a big fan of Captain America, ScubaRogers is also a die-hard fan of Black Panther, having worn the Black Panther costume at Comic-Con.
2. Joshua Bluemel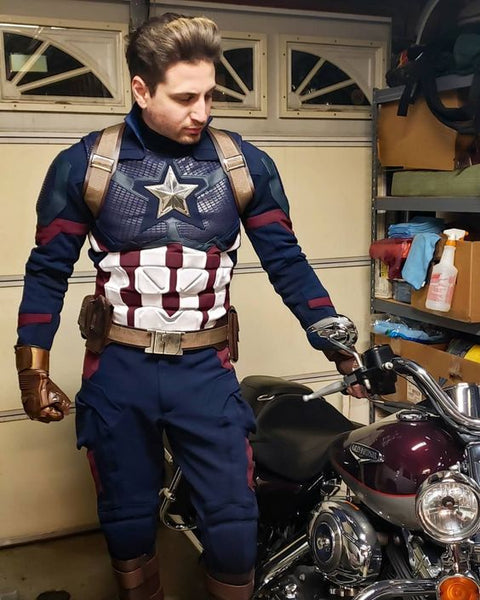 Source from https://pin.it/1I7XQ19
Joshua Bluemel is wearing a ultra-realistic Captain America Endgame cosplay costume in this picture. His cosplay is not only well-made in costume, the picture of the motorcycle is also a detail about Captain America. In the Marvel Comics, a government agency equips Captain America with a special motorcycle to help him solve the mystery behind his father's murder and bring those guilty to justice. When we were doing this ranking list, we found that Joshua also wore a Daredevil costume before, which was also a very handsome cosplay.
3. Chris Murray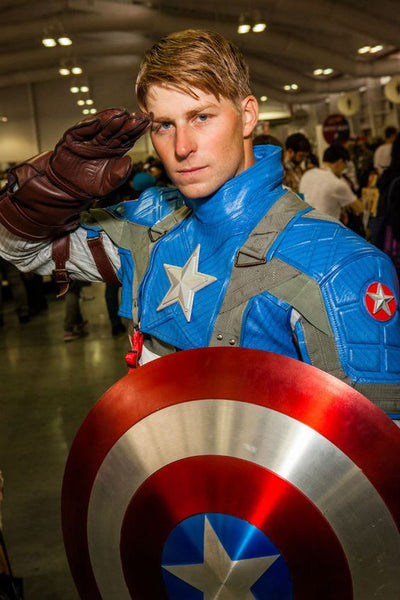 Source from www.facebook.com/chris.murray.5477
This Captain America cosplay costume and equipment are designed by Jack. He also does some pretty real-life superhero-inspired paintings in his spare time, which includes the well-received design of Spider Man costume. But what's really striking about Chris is how he's got that same blonde-haired, blue-eyed charm that Chris Evans brings to the part of good ol' Captain America. And his name is also Chris, so we are all amazed at this amazing coincidence.
4. Suzalia_cosplay
Source from https://www.instagram.com/suzalia_cosplay/
This cosplay from Suzalia_cosplay is absolute the best cosplays from Comic-Con 2015 Captain America. In this look, she not only wears a full set of Captain America costume, but also took the iconic Captain America shield. Now armed, Captain America is ready for battling against the nation's enemies as the Sentinel of Liberty, and so does Suzalia.
5. Thecosplayhistorian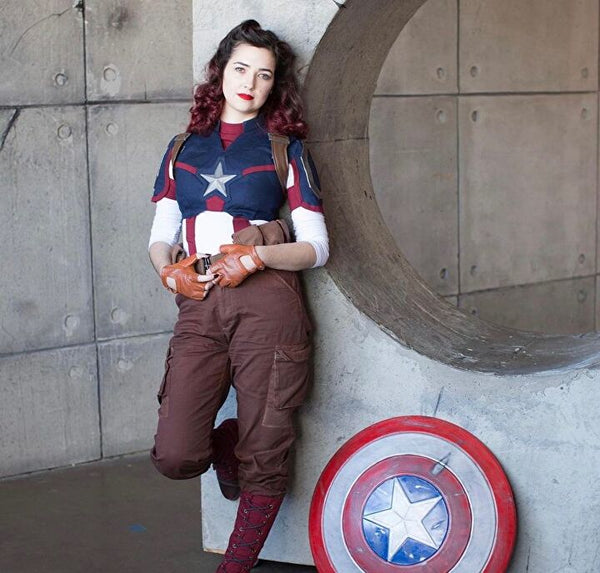 Source from 
https://www.instagram.com/accounts/login/next=/thecosplayhistorian/
Captain America represents the pinnacle of human physical perfection. More and more Captain America Cosplays show up and really nailed it. As a female cosplayer, Thecosplayhistorian's self-designed look also accurately captures the characteristics of Captain America. In addition to specializing in female Captain America cosplay, her own production of Captain Marvel costume are also very restored to the film.
6. Puppetsfall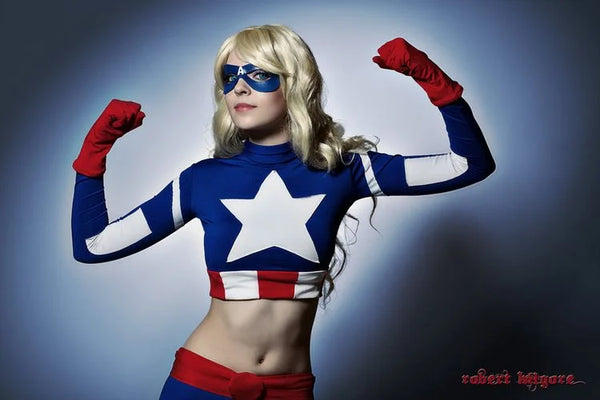 Source from https://www.deviantart.com/puppetsfall
Puppetsfall is a cosplayer with a fitness body. She exposes her abdomen in this look, which makes her look stronger. I think she also be suitable to wear the Black Widow costume, after all, she has real muscles. That bit aside, she's surprisingly the first (and only) person on our list to be wearing the mask. Little things like that are constantly welcome, just like the attention to information regarding what shade eyes Steve has is. His blues are always really striking in the comics, hers being no different.
7. Daftloki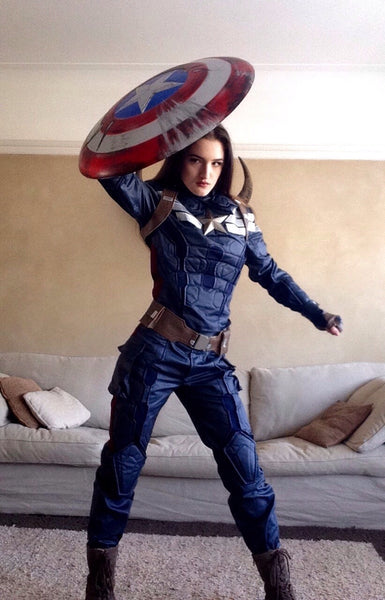 Source from https://daftloki.tumblr.com/
Right here, Daftloki makes a near reproduction of the Captain America uniform during Winter Soldier. As a matter of fact, you 'd believe she swiped it from the movie set. What puts it over the top is the battle-worn shield. She appears like she's already combated Wintertime Bear up several occasions. You aren't visiting a good-looking shield on this list.
8. O.B.Arkham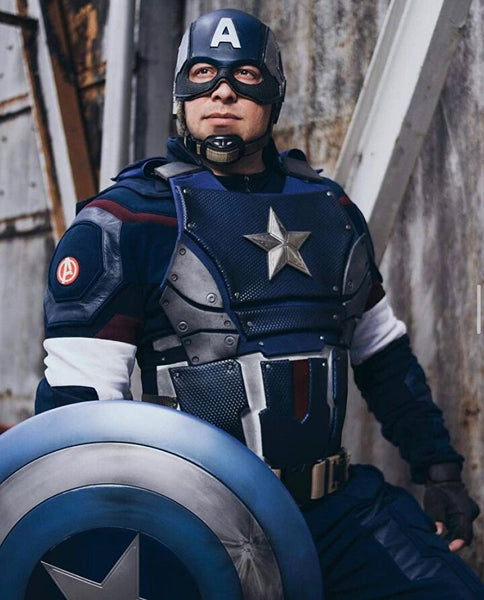 Source from https://www.instagram.com/o.b_arkham/?hl=en
The third-ranked cosplay on our list is a reader submission from O.B.Arkham. He sent over some photos of his pretty spot-on Captain America cosplay. This epic cosplay immediately caught our eye because it was so great. O.B.Arkham's Cosplay Costumes isn't a direct replica from any movie; however, it takes inspiration from the Avengers video game and many other designs. His whole team of builders regularly assist each other and love when cosplayers develop their own versions of their favorite characters.
9. WorldOfGwendana
Source from https://www.instagram.com/accounts/login/?next=/worldofgwendana/
Captain America is one of the most popular Marvel Comics characters. His costume and Loki outfit became the most popular Marvel decency and villains costumes. At this year's convention, there are many people cosplaying Captain America, the best of which is WorldOfGwendana. He looks so good that we can't keep our eyes off of this magnificent cosplay.
10. CaptainCosplay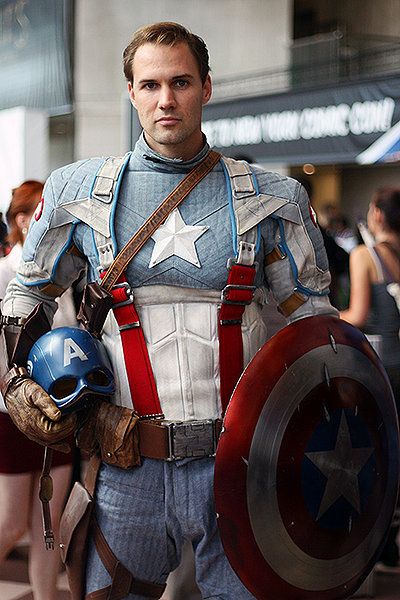 Source from https://www.pinterest.com/pin/357262182918842964/
CaptainCosplay is undoubtedly the first on our Captain America cosplay list! This actor turned cosplayer knows how to work with a budget plan and ambitiously built the Captain America outfit from scratch. And the final presentation of his outfit is perfect.
There's no hero more American and more valiant than Captain America, who would put down his own life to save the lives of so many others, and CaptainCosplay's cosplay makes us even more stoked for the upcoming sequel because we're reminded of how kick-ass the Cap is.
Conclusion:
Official debut in March 1941, Captain America is undoubtedly one of the most popular Marvel superheroes. Originally, not a lot regarding the movie or the character actually recommended that Captain America would be as hugely preferred, or suggest as much, as he does now. Over the course of 81 years and eleven films however, Captain America has undergone a metamorphosis that's drawn in informal moviegoers and also hardcore comics fans alike. For these loyal fans, dressing up as their favorite Captain America is the greatest joy. Until now, story about Captain America has been spread from generation to generation. Although our familiar Steve Rogers has passed the identity of Captain America to other superheroes in the new Marvel comic, Captain America's spirit will never die.