Top 10 Must-Follow Cosplayers On TikTok To Watch Out For
Aug 16, 2022 by YiLiao
Games, anime and manga culture have become an integral spiritual food in modern people's lives, a way to escape from their busy work and studies. Whether in the past or now, you will find that everyone has a favorite virtual character in their hearts, they are fond of the character's life and attracted by their personality, so they start cosplaying as this character, hoping they can connect with he or she through cosplay. Cosplay has become a vital part of popular culture, helping die-hard fans bring a new sense of life force to their favorite characters.
You can find great cosplayers on many different platforms, but one of the most popular short video platforms is undoubtedly TikTok. It allows every cosplayers to express themselves in new ways and in many basic templates. Its short videos are often funny, raw and have meme-like qualities. And TikTok also has a very smart algorithm which like your personal curator, always providing you with cosplayers that match your aesthetic. Therefore, you can find a lot of wonderful content about cosplay on TikTok. Today, we have a list of the Top 10 most popular cosplayers from the TikTok. Come and see who they are!
1. @f.ukuro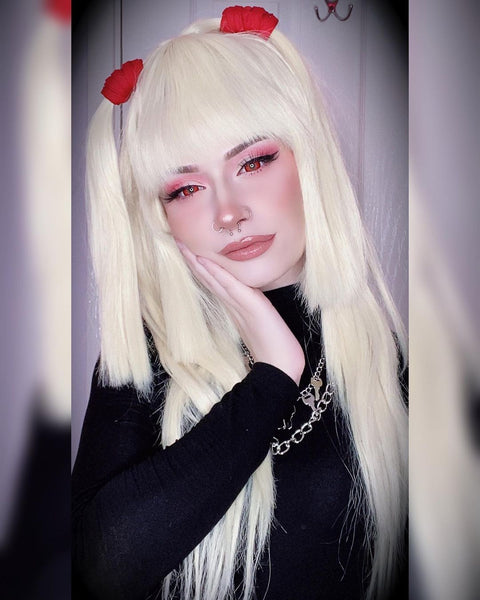 While cosplay community is incredibly diverse, female cosplayers continue to be the largest percentage of influencers, and the majority of them are between the ages of 23-39. F.ukuro, a 22-year-old girl from the UK, is a talented and quite young cosplayer. She became viral on the internet due to Kakegurui challenge and now has 7 million followers, making her one of the most popular cosplayers on TikTok. F.ukuro's cosplay is based on her favorite anime characters and always looks almost exactly the same every time her dresses up. Last year, she has attended Megacon, dressing up as Misa Amane from Death Note and interacting with many fans.
2. @akrcos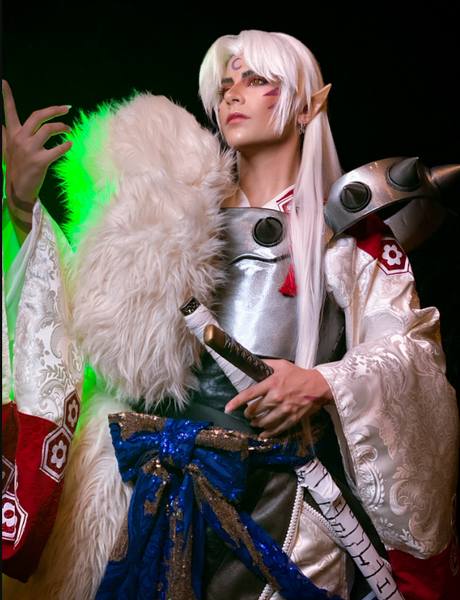 Akrcos is not only good at anime cosplay, but also very talented in voice acting, often imitating the characters he cosplay and share the video in TikTok. He has impressed many with his imaginative and expressive cosplays, building a fanbase of 1.2M followers. In addition, he is also a very talented costume designer, using his incredible design skills to creating illustrations of his favorite characters such as Todoroki Shoto and Sesshoumaru from Inuyasha. In addition to releasing the cosplay showcase video, Akrcos will also shows off some of his fantastic design and makeup skills to his followers. At the same time, he often encourages fans to share their love about cosplay, building a friendly community.
3. @afewblendingbrushes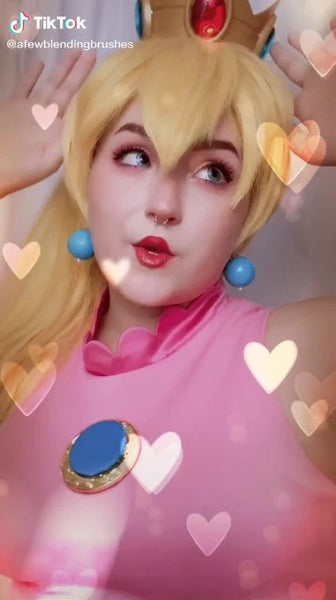 If you also follow afewblendingbrushes's TikTok, you will find that not only does she wear costumes and makeup, but she also uses amazing special effects to show the results of her role play. She does well in using catchy sounds and trends to help bring her beloved characters to life. Afewblendingbrushes takes the much-loved persona of Princess Peach and shows how she interacts with other characters from that Super Mario world. She has taken to TikTok to lip-sync clips from the popular dance videos and even clips that happen to fit the personas of these characters. It is evident from her immersive cosplays, that this influencer is an avid ACG fan.
4. @lowcash.cosplay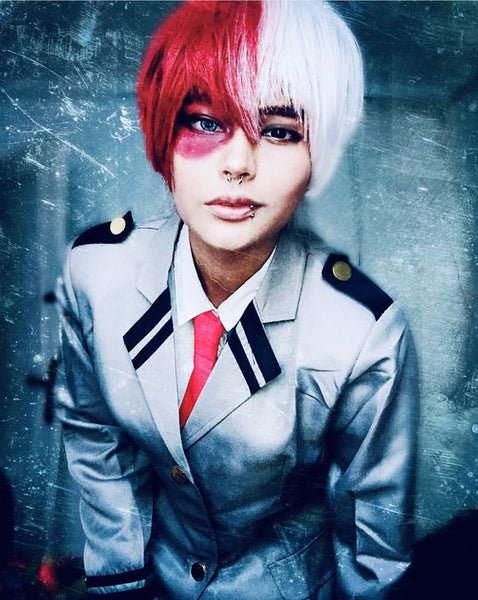 When you first see lowcash.cosplay, you won't believe that it is actually a woman because her crossplay is so realistic! She quickly became popular after trying to play the male anime characters. Actually, crossplay not only requires some special appearance characteristics, superb make-up is also indispensable. And lowcash.cosplay is someone who happens to have both. Her success cannot be achieved without hard practice every day, which let her skills just through the roof. She is really cute especially when she cosplays Todoroki Shoto from My Hero Academia. Both the masterful costume-makeup and the character's quirks blend together to form the perfect anime cosplay.
5. @Rexin_around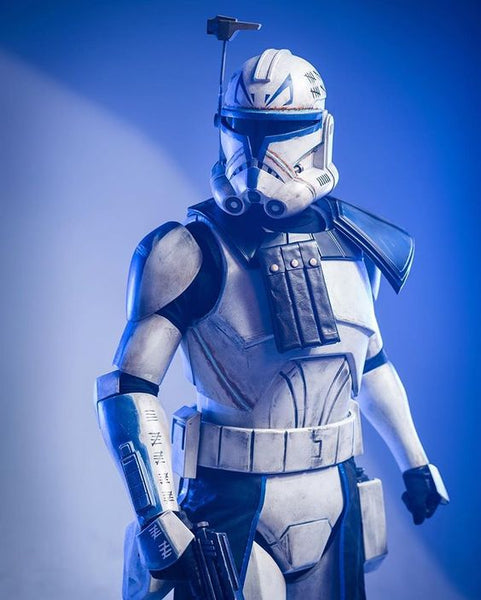 Check out every content from this amazing cosplayer's TikTok account! You will find that each costume is designed meticulously, creating outfits that match the virtual characters. Rexin_around is ever-present in the TikTok cosplay community. Most of his cosplay inspiration comes from Star Wars. He has a personal channel full of Star Wars fun and creating a collective sense of community on his TikTok by replying to various comments. Rexin_around has embodied the true passion of cosplay, encouraging his followers to dress up and have fun, without worrying about the opinions of others.
6. @thamesmr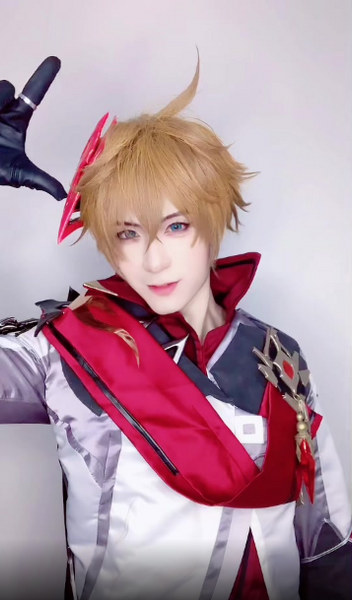 This Thai cosplayer with over 5 million likes on TikTok has countless wonderful creations and his cosplay as the Genshin Impact character has become the talk of the town. His Childe Tartaglia cosplay is bound to make your jaw drop. The impeccable face and styling along with the ice-blue contact lenses play a major role in the whole look, but Thamesmr's genius impersonation of the character's iconic moves is even more striking. He has also collaborated with other TikTok cosplayer, helping to create more two-dimensional relationships between these ACG characters.
7. @herrixio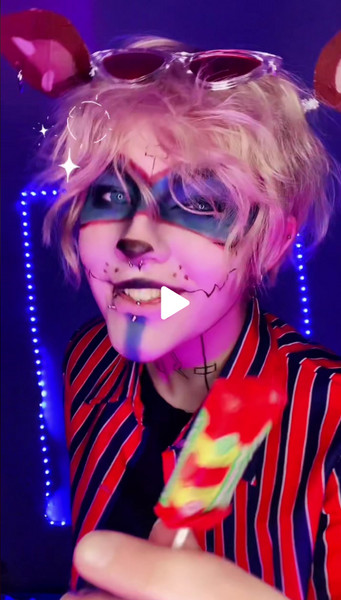 Herrixio is a budding art student on TikTok with amazing make-up skills and professional photography. He has made many short cosplay videos about Five Nights at Freddy, bringing joy to 3.73 million fans. Many fans are obsessed with his unique horror and gore themes. He has creatively transformed innocent characters into a more gruesome look, showing fans his fantastic design and make-up skills. He will incorporate his favourite electronic music features in his cosplay. As a result, herrixio is able to let his fans enjoy the new life of each character.
8. @gupsterthefish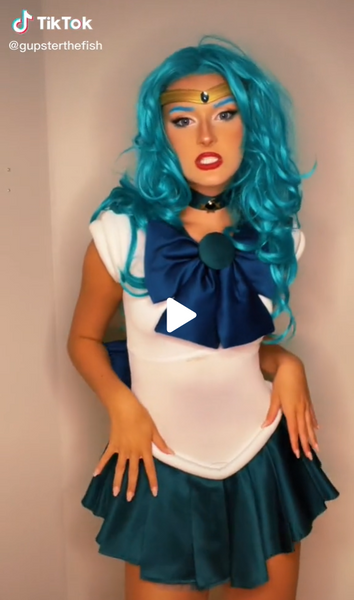 Gupsterthefish expertises in smoothly changing from one persona to another and she can effortlessly impersonate some of popular culture's finest characters. Gupsterthefish is the star of TikTok and is known for her incredible anime female role-playing. In her latest TikTok video, she cosplayed Sailor Neptune from Sailor Moon, a classic anime from many people's childhood. From the skillful makeup to the green wig, the cosplay makes for a stunning TikTok video. And her followers are happy to see her inventive cosplays and charming characteristics.
9. @high.lady.of.cosplay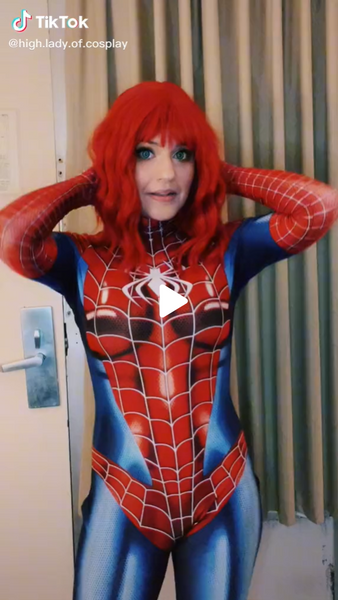 High.lady.of.cosplay has used a range of unique talents to bring some of Marvel's most popular characters to TikTok, creating a series of spectacular cosplays. Although she calls herself "the cringiest cosplayer on TikTok", fans know this is just a modest statement. Her early cosplay skills were indeed unskilled, but she is now a seasoned cosplayer, having cosplayed Scarlet Witch and Spider-Man and even made it to the top.
In addition to regularly updating her TikTOK account, she enjoys attending various comic conventions and movie premieres. She also occasionally shares her make-up habits on YouTube, illustrating how much time and effort she puts into her cosplay.
10. @Jensenavenger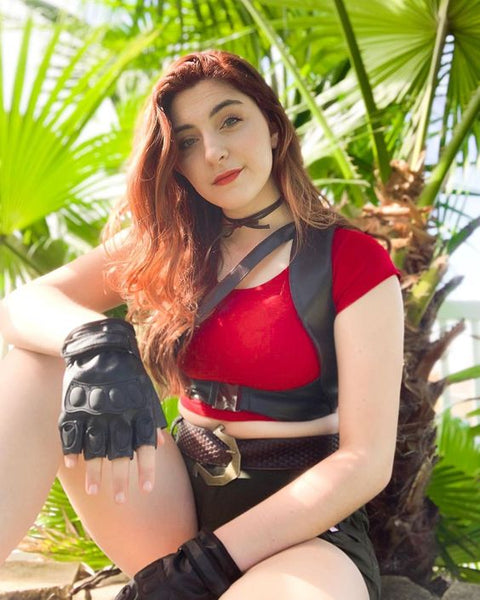 Jensenavenger is a die-hard Star Wars fan and has created many imaginative and expressive cosplay works that have left a lasting impression on many people. She has cosplayed Star Wars icons including Leia Organa, Rey, Han Solo, Qi'ra, and even an original character (OC) named Nova. When Jensen first joined TikTok, she published the cosplay of Ruby Roundhouse on her account. At that time, Jumanji: Welcome to the Jungle is her favorite game and she decided to express her love with cosplay. If you are a fan of different video game characters, then you should definitely follow her. The characters Jensen brings to life all have a tendency to do the same thing; They stand up for the little guy and they don't back down from a challenge. This is also why she has been supporting people who also like cosplay on TikTok.
In Conclusion:
Cosplay is both hard and enjoyable. To cosplay a character better, cosplayers need a lot of effort, time and money to complete their work. From costume details to props to wig styling and learning the habits of the character, the process of cosplaying also deserves to be shared and gain more love. TikTok is such a great short video application, which provides a platform for cosplay fans to speak up, and cosplayers can quickly share their cosplay process through the templates in the software. With the help of easily doable editing effects, filters, and more, the creativity shown in some of these mesmerizing cosplay videos is remarkable. Some of these cosplays are so mind-blowingly executed you'd think your favorite characters have actually made it to reality. That's also the charm of great cosplay that makes you wonder if you're in the real world.
Who are the BEST 10 TikTok cosplayers in your mind? Are any of them we mentioned above? Come share your opinion with us!